Home

>

Products

>
Line LED(ASYCK LITE)
PN: AI-1212A-D
Standard Model
RoHS Compliant
Characteristics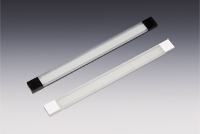 Tickness 10mm, Slim & Smart design, 12 Power LEDs are utilized
Daylight White, 360lm
Color temperature: 6300K
Life span: about 40,000 hrs. *At 70% of initial output
DC24V, 5.0W
Unit Specifications
| Item | Ratings | Unit |
| --- | --- | --- |
| Input Voltage | DC24 | V |
| Power Consumption | 5.0 | W |
| Total Luminous Flux | (360) | lm |
| Color Temperature | 6,300 | K |
| Operating Temperature Range * | -10 to +40 | °C |
| Operating Humidity Range * | +30 to +80 | °C |
| Strage Temperature Range * | -20 to +50 | °C |
| Strage Humidity Range * | +20 to +90 | °C |
* Nonfreezing and noncondensing.
** LEDs have some colors by LED characteristics.

 The information in this page is subject to change without notice for the purpose of inprovement or technological upgrading. Manufacturing may be discontinued witout prior notice. Before using the products, please be sure to request the specifications and confirm the contents.